Mtech Lite Westfield Drift 300 Drifting Experience

Learn how to control the amazing Westfield Sports Car, to understand spin, counter steering and drifting. Then it's your opportunity to put the skills you have mastered to good use, which requires high concentration for steering and throttle control!
Definition: Car drifting is caused when the rear slip angle is greater than the front slip angle, to such an extent that often the front wheels are pointing in the opposite direction to the turn (e.g. car is turning left, wheels are pointed right or vice versa, also known as opposite lock or counter-steering).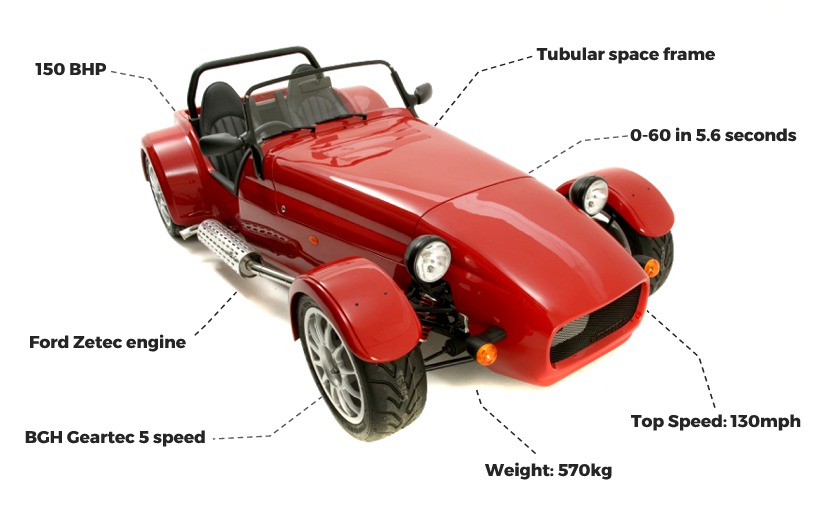 Driving Experience Itinerary
On arrival at the venue, which is scheduled 45 minutes ahead of your time on track, you will be required to fill out registration forms
Followed by kitting up in a suit and helmet
You will receive an introduction to the car with a full safety briefing by a Lead Driving Consultant
Followed by a Passenger Course Demonstration with a Driving Consultant, who will demonstrate the art of car control around an auto test style course
Finally, it will be your chance to practice what you have learned
Venues
These experiences are available at:
Times
08:15 & 12:15
Duration: approx. 5 hrs

Driver's Arrival time is 45 minutes ahead of time on track for purposes of registration, briefing and kitting up
Drivers are provided with suit, gloves, balaclava and helmet
Drivers are recommended to wear narrow fitting, flat shoes
Photos and in-car videos on USB are available to buy when booking and on the day
Drivers should expect to be at the venue for approx. 5 to 5 1/2 hrs
Spectators are welcome but children under the age of 16 years of age must be accompanied by an adult and supervised at all times
No children or pets allowed.
Light refreshments are available to purchase on the day
Min height 5'Äô 2'ÄĚ
Max height 6'Äô 8'ÄĚ
Max weight: 19st
Must be aged 18 and over
Health conditions such as heart problems, epilepsy and other illnesses must be disclosed when booking
The following must be provided by the driver upon arrival at the Experience venue:
Full Valid UK Photo-card Licence (not a photocopy). If Driving licence is not from U.K., then a passport should be brought along in addition to the licence
In the event that a full,valid Driving Licence is not brought on the day then regretfully you will not be allowed to drive
Booking Confirmation Email
Voucher (if applicable)
Bookings are subject to availability
Bookings are made by calling our dedicated Booking Line no: 03 333 444 132
A Confirmation Email will be sent immediately following booking
Once a date is booked and confirmed, you will automatically become bound by our Booking Terms & Conditions
Once booked and the Voucher redeemed the Policy is as follows:
Please note that we do not offer refunds in the event that the Driver wishes to cancel their Experience
Re-scheduling of dates booked is permissible up to 7 clear days before the Experience date, with a re-scheduling charge of £20 payable
In the event that a Change of Driver is requested, a £20 charge is payable
In the event of cancellation due to inclement weather or for any other reason beyond their control, Mtech Lite will offer drivers an alternative date
Mtech Lite has Public Liabilities insurance cover up to £5,000,000
Drivers are required to sign a Disclaimer on arrival